The iPhone 15 is coming later this year, as if there was any doubt that Apple would make a new version of one of the best phones. We've already heard a great many things about the iPhone 15 series, and it sounds like there are going to be some serious upgrades this year.
And that can only be a good thing, especially given the disappointingly meager iPhone 14 upgrades. But what sort of changes can we expect from iPhone 15 vs iPhone 14? Here are five of the most exciting iPhone 15 rumors and what they mean for you.
USB-C is finally coming, but there may be caveats
Rumors point toward the iPhone 15 being the first iPhone to ditch the Lightning port in favor of USB-C. This will likely help boost charging speeds versus the best Android phones and offer faster transfer speeds to external devices.
But there may be some caveats that come with this switch. According to some rumors, Apple may adopt the Made for iPhone (MFi) program for USB-C. It's said that this move would limit charging speeds (and potentially data transfer speeds) if you're not using Apple-authorized USB-C cables, sales of which would generate money for Apple in the form of royalty payments.
That would defeat the purpose of USB-C, since it would stop iPhone 15 owners using some third-party cables to their full effect.
It's also been noted that this might be illegal according to EU directives relating to the standard charging port. Those are the same directives that seemingly played a big role in prompting Apple to make the switch to USB-C in the first place. However, EU law doesn't apply everywhere, and nothing can stop Apple penalizing non-EU buyers for using non-approved cables.
Still, a shift to USB-C can only be a good thing because you can hold onto compatible chargers without having to add an adapter, even if Apple does throttle the speed.
An Apple Watch Ultra-inspired design
Apple may be gearing up to ditch stainless steel on the iPhone 15 Pro, in favor of a frame made from titanium — the same metal used in the Apple Watch Ultra. Not only is titanium stronger than steel, it's also significantly lighter. But titanium is expensive, which would explain why this is supposedly an iPhone 15 Pro exclusive.
If that wasn't enough, the iPhone 15 Pro Max is also rumored to have some incredibly thin bezels — measuring 0.061 inches thick. That's so thin that they could be a contender for the world's thinnest smartphone bezel. More significantly, that would improve the phone's aesthetic value, and potentially offer more screen space without necessarily making the phone any bigger.
However, there is word that manufacturer ChinaStar has developed a bezel that's 0.0394 inches thick, which could swoop in and steal that record away from Apple. Still, that rumored thickness is still a big change, and it all suggests the iPhone 15 Pro Max will be a beautiful looking phone.
Everyone gets to visit the Dynamic Island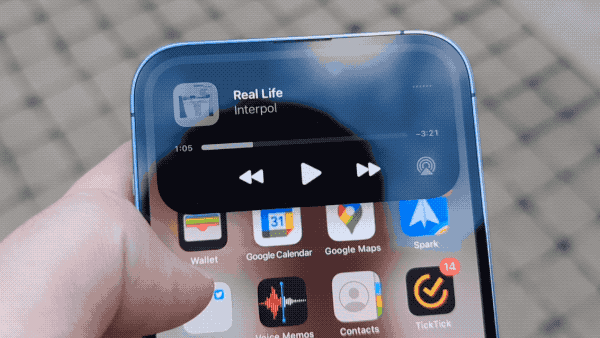 The Dynamic Island is one of the best features on the iPhone 14 Pro, giving the phone's miniature notch a useful purpose in the form of alerts, notifications and Live Activities — all on the fly. While this design feature was exclusive to the iPhone 14 Pro and Pro Max, rumor is that Dynamic Island will be coming to iPhone 15 and 15 Plus later this year. That would mean the days of the chunky iPhone notch are over.
On top of that, the Dynamic Island itself is rumored to come with a few upgrades. That allegedly includes brand new components, with Ming-Chi Kuo calling out the proximity sensor as a notable example. The iPhone 15 will apparently place the sensor in the Dynamic Island, rather than under the display, without making the pill-shaped notch any larger. The benefits of this aren't clear, but it does suggest a larger overhaul is in the works — which could lead to better and more useful features as a result.
A17 Bionic looks like a major powerhouse
The A16 Bionic is already one of the power powerful mobile chipset on the market, and the most powerful in terms of CPU benchmarking scores. Needless to say, we have high hopes for the iPhone 15 Pro's A17 Bionic, and leaked benchmarking scores suggest that hope isn't misguided.
According to those scores, the iPhone 15 Pro blows away both the iPhone 14 Pro Max and the Samsung Galaxy S23 Ultra. Per leaked Geekbench 5 results, the iPhone 15 Pro allegedly scored a single-core score of 2,317 and a multi-core score of 6,750. The iPhone 14 Pro Max got 1,882 and 5,333, while the S23 Ultra scored 1,578 and 5,081.
Scores on the new Geekbench 6 benchmark were similarly high. The iPhone 15 Pro is alleged to have scored 3,019 in the single core test and 7,860 in the multi-core test. The iPhone 14 Pro Max clocked in at 2,523 and 6,396, while the S23 Ultra scores 2,000 and 5,164. In both instances the leaked scores show the A17 Bionic blowing the A16 Bionic and Snapdragon 8 Gen 2 for Galaxy out of the water.
Camera improvements all around
Every iPhone update sees camera improvements, and the iPhone 15 is no exception. Easily the biggest change would be the reported switch to a periscope-style telephoto lens on the iPhone 15 Pro Max, a move that would improve the phone's ability to zoom in on subjects. But that feature may be restricted to just the Pro Max model, meaning it's out of reach unless you plan to pay for Apple's most expensive phone.
Another potential camera change would be more exciting to more people — the possibility that the 48MP main camera Apple introduced to the iPhone 14 Pro lineup would find its way to the iPhone 15 and iPhone 15 Plus. An upgraded main camera for the iPhone 15 has been floated as a possibility, though this rumor isn't as rock-solid as, say, the switch to USB-C. And if Apple does go with a 48MP main lens for the iPhone 15, we'd wonder if the ProRAW feature would still be limited to the iPhone Pro models.
With several months to go before the iPhone 15's launch in the fall, iPhone 15 camera rumors are definitely worth keeping an eye on.
More from Tom's Guide